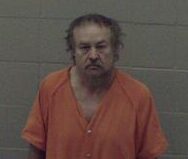 By Ray King
A $20,000 cash-only bond was set Monday for a White Hall man accused of entering a locked business on Olive Street Saturday.
Lincoln County District Judge Phillip Green set the bond after ruling prosecutors have probable cause to charge John Parrish, 51, with commercial burglary. Green was sitting in for Pine Bluff District Judge John Kearney.
Deputy Prosecutor Mircha King told the court the circumstances that led to the arrest of Parrish.
King said Parrish has several prior felony convictions and in July 2021was sentenced to 10 years in prison with the sentence suspended. Prosecutors will file a petition to revoke that suspended sentence.
Parrish was told to come back to court Feb. 13.