By Ray King
A Pine Bluff man was shot to death Thursday night and a second man arrested at the scene of the incident.
Police identified the victim as Kevin Brazell, 43, who was found with apparent gunshot wounds in the parking lot of an apartment complex in the 2200 block of South Hazel Street at about 9:08 p.m. Brazell was pronounced dead at the scene.
The death was the 12th homicide of the year in Pine Bluff and the 4th since Sunday.
Witnesses to the incident identified Vincent Peal, 48, as the person who shot Brazell.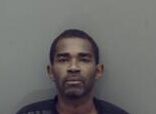 During a court hearing Friday, Deputy Prosecutor Caleb Conrad explained what police found.
When Peal was questioned, he told police he knew he was a convicted felon, so he ran down the railroad tracks behind the apartments and threw the gun, which he said was a nine-millimeter, into the bushes and weeds.
Jefferson County District Judge Kim Bridgforth set a $750,000 bond for Peal after ruling prosecutors have probable cause to charge him with first-degree murder and with being a felon in possession of a firearm because of a 1995 conviction for aggravated robbery.
Peal said he would hire his own attorney and was told to come back to court on July 12.