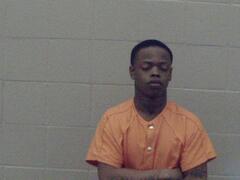 By Ray King
A $75,000 cash only bond was set Thursday for a Pine Bluff man accused of driving a vehicle that had been reported stolen in Little Rock during a carjacking.
Pine Bluff District Judge John Kearney set the bond after ruling prosecutors have probable cause to charge Darnell Ford, 20, with theft by receiving.
During the court hearing, Prosecuting Attorney S. Kyle Hunter said police were sent to the 2600 block of South Holly Street Monday at about 8:30 a.m. in an attempt to locate the stolen car, a Volvo that the manufacturer had pinged at that location.
Detective Michael Merritt reported that the car was sitting in the driveway and three male juveniles were found inside trying to sleep. One of the juveniles told police the car belonged to their friend Robert Newman and his wallet and identification were found in the car. Hunter said police do not know who Newman is.
Officers questioned the homeowner who said she did not know the three juveniles and a 9-millimeter handgun was found in the vehicle when it was searched.
Ford was found hiding in a bedroom closet at a house in the area and told police he was scared because he had warrants for his arrest. It was determined that he had been the one driving the stolen vehicle
Hunter said Ford has charges of three counts of aggravated assault and six counts of discharging a firearm from a car that were filed in October and prosecutors will file paperwork seeking to revoke Ford's bond.
He said he would hire his own attorney.