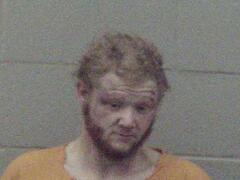 By Ray King
A $75,000 cash only bond was set Friday for a Pine Bluff man who fled from police on a 4-wheeler that was later determined to be stolen.
Pine Bluff District Judge John Kearney set the bond after ruling prosecutors have probable cause to charge Chad Russell, 30, with second-degree battery, theft by receiving and fleeing.
Reading from a probable cause affidavit from Detective Keith Banks, Deputy Prosecutor Mircha King told the court what happened.
Police reported that after Russell hit the officer, he fled and a pursuit traveled across the city until Russell reached a wooded area near Barraque and Redbud Streets where he drove into the woods.
Police and Jefferson County Sheriff's Deputies were able to establish a perimeter around the area and tracking dogs from the Arkansas Department of Corrections assisted in the search and located Russell.
When Russell was questioned, he reportedly said he did not mean to hit the officer and he got the ATV from a friend.
King said Russell has two pending cases in Jefferson County Circuit Court including aggravated assault and drug related offenses. He said he would hire his own attorney.