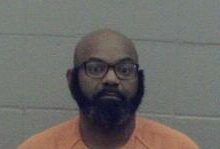 By Ray King
A $75,000 bond was set Friday for a Pine Bluff man arrested on drug-related charges.
Pine Bluff District Judge John Kearney set the bond after ruling prosecutors have probable cause to charge Charles Lewis, 45, with possession of a controlled substance with purpose.
Reading from a probable cause affidavit from Investigator John Hughes, Deputy Prosecutor Lisa McGriff said on May 5, police obtained a search warrant for 4812 W. 6th Ave., and on May 12, Vice and Narcotics Detectives, the SWAT Team, and Tri-County Drug Task Force served that warrant.
McGriff said a live grenade was found in a bag behind the house and said Lewis has a 1994 conviction for murder, a prior drug-related conviction, and may also have a prior federal conviction.
Lewis said he would hire his own attorney and was told to come back to court on June 8.