By Ray King
A $75,000 bond was set Monday for a man currently on parole after police found a loaded handgun following a traffic stop.
Jefferson County District Judge Kim Bridgforth set the bond after ruling prosecutors have probable cause to charge Quintavius Hart, 24, with being a felon in possession of a firearm.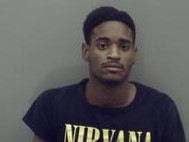 During the court hearing, Deputy Prosecutor Jay Gerard said Police Detectives Kevin Kirk and Jeremy Crosby were westbound on 15h Avenue when they saw a car in the middle of the street block traffic on Linden Street. They saw a male run from apartments and jump into the driver's seat and drive off.
The car had a defective taillight so a traffic stop was conducted and when the detectives approached the car they detected the odor of marijuana and told the occupants the car would be searched.
Gerard said Hart was sitting in the passenger seat and Crosby reported seeing an extended magazine on the floorboard which Hart started to reach for before being stopped. When Hart got out of the car, a cigar containing a green vegetable substance and a bag containing a green vegetable substance was seen in the car seat.
When was Hart told he was going to be arrested, he began to resist, Gerard said.
After Hart was taken into custody he was walked back to the car and told to sit down on the ground. He did but then jumped up and ran again before he was subdued. A black and silver .40-caliber handgun with eight rounds in the magazine and one in the chamber was found along the path Hart had ran. The extended magazine in the car, which contained four rounds, fit into the gun.
Gerard said Hart was convicted in Pulaski County in 2016 of robbery and was arrested on multiple charges in North Little Rock in 2020. Hart said he would hire his own attorney.