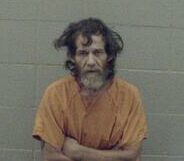 By Ray King
A Jefferson County woman was hospitalized, and her former husband was arrested Saturday after he allegedly beat the woman with his fists and a shovel, and damaged her residence.
David McCool, 61, had left the woman's residence before sheriff's deputies arrived but was found at his residence later.
During a court hearing Monday, Deputy Prosecutor said on Friday, deputies were sent to a house on Old Star City Highway in response to a reported armed disturbance and when they arrived, spoke to the 60-year-old victim.
Sheriff's Sgt. Terry Wingard reported that he spoke to the victim at the hospital.
Carson said deputies reported that the woman had a 5-inch laceration to her left forearm, her right hand was swollen, there were bruises, cuts, and scrapes on her body and the hospital told her she had multiple broken ribs. The results of an MRI of her head injuries are pending.
McCool also allegedly shattered the woman's cell phone, ripped a ceiling fan down, and caused other damage to the house.
On Monday, Jefferson County Judge Kim Bridgforth set a $75,000 bond for McCool after ruling prosecutors have probable cause to charge him with first-degree battery, aggravated residential burglary, kidnapping, aggravated assault on a family or household member, and criminal mischief. He was ordered to have no contact with the victim until the case is settled.