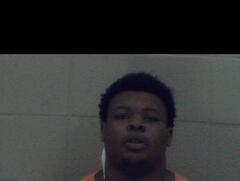 By Ray King
A $50,000 bond was set Monday for a Pine Bluff man accused of being involved in a shootout in downtown Pine Bluff in the early morning hours Saturday.
Jefferson County District Judge Kim Bridgforth set the bond after ruling prosecutors have probable cause to charge Jacory Qualls, 22, with aggravated assault and with criminal use of a prohibited weapon.
Reading from a probable cause affidavit from Detective Keith Banks, Deputy Prosecutor Beth Carson said an officer was at 2nd Avenue and Main Street at 2 a.m. when he saw multiple gunfires.
Carson said four gunshot victims came forward but all four denied knowing who shot them and all four had what were described as "non-life threatening: injuries.
Qualls, who Carson said has no criminal history, said he would hire his own attorney.