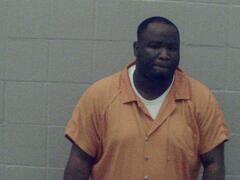 By Ray King
A $50,000 cash-only bond was set Tuesday for a Pine Bluff man accused of fleeing from an Arkansas State Trooper Sunday, then hitting a church van head-on, causing injuries.
Pine Bluff District Judge John Kearney set the bond after ruling prosecutors have probable cause to charge Markess Hawthorne, 26, with felony fleeing, aggravated assault, criminal mischief, and possession of a controlled substance with the purpose to deliver.
When Hawthorne was taken into custody after the collision, troopers found 6.8 pounds of marijuana, valued at $31,000, in Hawthorne's vehicle.
Deputy Prosecutor Mircha King said Trooper Shane Caveness was on I-530 at the 30-mile marker southbound when he saw a white Dodge Challenger approaching. A check of the license plate on the Dodge showed that it did not match the registration and a check of the driver, later identified as Hawthorne, showed that his license was suspended and he had previously been charged with fleeing and possession of a controlled substance.
King said the trooper activated his emergency lights and the vehicle fled.
The suspected marijuana was found in a blue duffle bag in the front passenger seat. Hawthorne was taken to Jefferson Regional Hospital to be treated for his injuries from the accident and then taken to the adult detention center.
Hawthorne was also charged with multiple misdemeanor traffic offenses. He is currently on probation stemming from a 2018 conviction on drug-related charges.