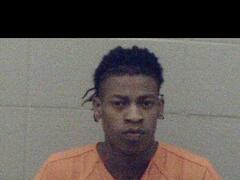 By Ray King
A reported shooting Wednesday resulted in the arrest of a Pine Bluff man who was identified as the suspect.
When he was interviewed, David Burnett, 20, denied the allegation, Deputy Prosecutor Beth Carson said during a court hearing Friday.
Detective Chris Wieland reported that police were notified Wednesday that a person had been brought into the Emergency Room at Jefferson Hospital with a gunshot wound and an attempt to interview that person was unsuccessful because of the victim's injuries.
When Burnet was interviewed, he said the victim and the witness had guns that they were pointing at each other and when he tried to get the guns, one of them went off and shot the victim.
Jefferson County District Judge Kim Bridgforth set a $50,000 bond for Burnett Friday after ruling prosecutors have probable cause to charge him with first-degree battery. He was ordered to have no contact with the victim until the case is settled and said he would hire his own attorney.