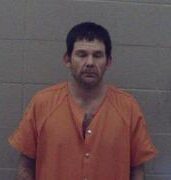 By Ray King
A Pine Bluff man was arrested Monday after he led State Troopers on a high-speed chase on Interstate 530 that ended when a motorcycle the man was riding side-swiped a trooper's car and the man fled on foot for a short distance before being taken into custody.
During a court hearing Wednesday, Deputy Prosecutor Joe West said the man, Johnny Williams, 43, has prior convictions from "a decade ago" in Jefferson and Pulaski Counties.
Trooper Darryl Hinton reported that Monday morning, he attempted to stop a motorcycle ridden by Williams because it had a fictitious license plate and Williams refused to stop.
When Williams was patted down, troopers found a glass smoking pipe and a substance believed to be methamphetamine.
Jefferson County District Judge Kim Bridgforth set a $50,000 bond for Williams after ruling prosecutors have probable cause to charge him with first-degree criminal mischief, fleeing, possession of a controlled substance, and possession of drug paraphernalia.
Williams said he would hire his own attorney.