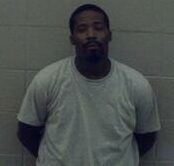 By Ray King
A $50,000 bond was set Friday for a Pine Bluff man accused of firing shots at a house Tuesday.
Jefferson County District Judge Kim Bridgforth set the bond after ruling prosecutors have probable cause to charge Toriano Robinson, 31, with terroristic threatening, first-degree criminal mischief, and being a felon in possession of a firearm.
Deputy Prosecutor Lisa McGriff said Robinson has been convicted of more than four prior felony offenses.
Reading from an affidavit by Sheriff's Lt. Kaylon McDaniel, McGriff said on Tuesday, that deputies responded to 1507 Oriole Drive in response to a report of gunshots in the area.
McDaniel reported that deputies found approximately 11 spent nine-millimeter shell casings in the roadway at the residence. After obtaining a search warrant for Robinson's vehicle, deputies found a spent nine-millimeter shell casing that was consistent with the shell casings found at the scene.
Robinson said he would hire his own attorney and was ordered to have no contact with the victim until the case is settled.