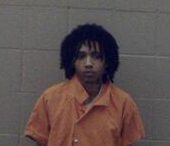 By Ray King
A $50,000 bond was set Tuesday for a Pine Bluff man accused of being involved in a shooting incident at a house on West 5th Avenue Saturday morning.
Jefferson County District Judge Kim Bridgforth set the bond after ruling prosecutors have probable cause to charge Treveon McDaniel, 22, with discharging a firearm from a vehicle, aggravated assault, and committing a terroristic act.
Reading from an affidavit by Detective Corey Wilfong, Deputy Prosecutor Beth Carson said at 9 a.m. police were sent to a report of a shooting at a house.
Wilfong reported that the video from the store confirmed what the witness said. Officers located an address for McDaniel's grandmother who said she was afraid of him and told police his address.
McDaniel was ordered to have no contact with the victim until the case is settled and said he would hire his own attorney.