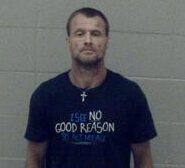 By Ray King
A $50,000 bond was set Friday for a man accused of breaking into a business on Blake Street Sunday.
Jefferson County District Judge Kim Bridgforth set the bond after ruling prosecutors have probable cause to charge Buck Maddox, 43, with commercial burglary and theft of property.
Reading from a probable cause affidavit from Detective Enrique Soto, Deputy Prosecutor Jill Reed said police were sent to a tire shop at 417 S. Blake St., where an employee reported that a bar on the back east door had been moved and the door breached. The employee said the security cameras had been turned off and a handgun belonging to a customer had been taken, along with $600 cash from a safe.
The following day, Soto reported talking to the owner of the business and Reed told the court what the owner said.
Reed said other employees of the business identified Maddox as the person in the video and the business owner told police he had fired Maddox and another employee recently. She said Maddox had an extensive criminal history with multiple prior convictions in Madison County, and prior convictions in Carroll and Benton Counties and is on parole.
The Public Defender's Office was appointed to represent Maddox.