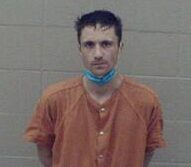 By Ray King
A Pine Bluff man was arrested Wednesday following a police investigation into the theft of lawn equipment on Nov. 1.
Gabriel Jeffery, 28, was taken into custody and because he is on probation, will have to post a $5,000 cash-only bond to be released from the adult detention center.
During a court hearing Friday, Deputy Prosecutor Maxie Kizer read from a probable cause affidavit from Detective Ryan Edwards to explain what Jeffery was accused of doing.
Jefferson County District Judge Kim Bridgforth ruled prosecutors have probable cause to charge Jeffery with breaking or entering and theft of property. He said he would hire his own attorney.