By Ray King
A $5,000 bond was set Tuesday for a Little Rock man accused of trying to bring contraband into Tucker Prison.
Jefferson County District Judge Kim Bridgforth set the bond after ruling prosecutors have probable cause to charge Myvon Taylor, 30, with furnishing prohibited articles, based on an affidavit from State Police Special Agent Dustin Thompson.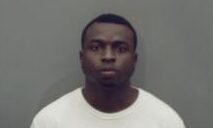 Reading from that affidavit, Deputy Prosecutor Jay Girard said Taylor, who was a corporal with the Department of Corrections was reporting to work Tuesday and when he went through a security checkpoint at the main entrance officers found a container of cheese dip.
Concealed in the cheese dip were three packages, one containing 26 pills imprinted with G037 that were determined to be Hydrocodone, a second package containing 40 bar-shaped pills determined to be Xanax and the third containing 22 grams of a vegetable substance determined to be marijuana.
Officers also searched Taylor's vehicle and Girard described what was found in the vehicle.
Taylor said he would hire his own attorney.