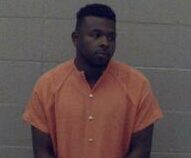 By Ray King
A handgun that had been reported stolen in Pine Bluff was recovered Wednesday after police conducted a traffic stop on a Ford F-150 being driven by a man with a suspended driver's license.
When officers ran a warrant check, they learned that there were active warrants for Darrius White, 25, and he was taken into custody.
During a court hearing, Deputy Prosecutor Mircha King explained how the gun was found.
Pine Bluff District Judge John Kearney set a $5,000 bond for White Friday after ruling prosecutors have probable cause to charge him with theft by receiving. White said he would hire his own attorney.