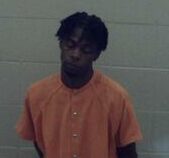 By Ray King
A $30,000 cash-only bond was set Monday for a Pine Bluff man who allegedly broke into a house on the west side of the city armed with a handgun.
Pine Bluff District Judge John Kearney set the bond after ruling prosecutors have probable cause to charge C.C. Mixon, 28, with aggravated assault and aggravated residential burglary.
Reading from an affidavit from Detective Keith Banks, Deputy Prosecutor Mircha King said police were sent to a reported home invasion on Edgewood Drive at 3:55 a.m. and received information from dispatch that the suspect, later identified as Mixon, was in a black Cadillac and was armed with a handgun.
King said officers said a car matched that description and conducted a traffic stop in the parking lot of Family Dollar on West 28th Avenue. The driver told officers he had dropped Mixon off at a residence on Edgewood Drive.
King said police saw a knot on the female's forehead and bite marks on her arms and hands and said she refused medical treatment.
Mixon, who has two felony cases pending and is listed as an absconder was ordered to have no contact with the victims until the case is settled.