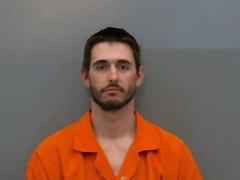 BY: RAY KING
A $25,000 cash only bond was set Monday for a Jefferson County man on drug related charges.
Pine Bluff District Judge John Kearney set the bond after ruling prosecutors have probable cause to charge Morgan Hankins, 28, with two counts of possession of a controlled substance.
Pine Bluff Police Vice and Narcotics Detective Chris Sweeny reported that on Sunday, an officer was sent to Highway 65B and the Martha Mitchell Expressway to check a report that there were two people asleep in a vehicle.
When the officer arrived, an Arkansas State Trooper and ambulance personnel were already on the scene. Hawkins, who was in the driver's seat, was assisted out and a clear plastic baggie containing a green leafy substance believed to be marijuana, a second bag containing a white power and a black prescription bottle between his legs.
A female passenger also got out of the car and a clear plastic bag fell from between her legs. She was released pending further investigation. The suspected drugs will be sent to the Arkansas State Crime Laboratory for analysis.
Records at the prosecutor's office showed that there are drug related charges pending against Hankins.