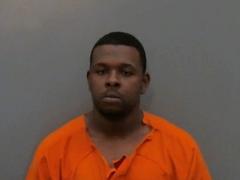 BY: RAY KING
A reported fight on the parking lot of a business on U.S. 270 Saturday afternoon led to a highspeed chase on Interstate 530 and the arrest of a man accused of stealing the car of the man he had been fighting with.
Darius White, 23, was arrested after Arkansas State Troopers and Redfield Police assisted Jefferson County Sheriff's deputies who had chased the car driven by White from the Snack and Shop at 10900 U.S. 270.
Sheriff's Investigator Charles White reported that emergency dispatchers were contacted about the fight between a black male and a white male and while a deputy was on the way, relayed information that the black male who was involved in the fight had taken the white male's vehicle.
At the store, the owner of the car said he had gone inside the business to pay for gas and when he came out, he was approached by a black male who asked him for the time. He said he gave the black male the time and proceeded toward his vehicle when the black male approached him with a knife and demanded the keys to the vehicle. The owner of the car said he refused to give up the keys and the two started fighting and at one point he was able to get the knife but was overpowered and the black male got the knife back and the keys to the vehicle.
Reportedly, two other black males also got into the vehicle and left the store. A sheriff's deputy attempted a traffic stop but the driver of the vehicle refused to stop and proceeded to Interstate 530 where the vehicle traveled toward Redfield at speeds up to 118 miles per hour.
At Redfield, officers placed spike strips across both traffic lanes and the driver of the vehicle, later identified as Darius White hit the strips and lost control with the vehicle hitting a roadside cable. When the deputy got out to try and make an arrest, White drove off and was finally stopped when troopers penned the vehicle in.
The report did not indicate what happened to the two other males that allegedly got into the vehicle.
When White was questioned, he admitted stealing the vehicle and admitted pulling the owner of the vehicle out by force.
On Monday, Pine Bluff District Judge John Kearney set a $250,000 bond for White after ruling prosecutors have probable cause to charge him with aggravated assault, aggravated robbery, theft of property and felony fleeing.