By Ray King
A reported disturbance at an apartment on South Blake Street Thursday resulted in the arrest of a Pine Bluff woman who allegedly forced her way into the apartment and assaulted the victim.
Marcella Johnson, 27, was taken into custody after police responded to the disturbance at 2323 S. Blake St.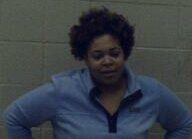 Reading from an affidavit from Detective Keith Banks, Deputy Prosecutor Jill Reed explained what officers found.
Banks reported that when Johnson was interviewed, she said she had been intoxicated and didn't remember exactly what happened.
Jefferson County District Judge Kim Bridgforth set a $25,000 bond for Johnson Friday after ruling prosecutors have probable cause to charge her with residential burglary, criminal mischief, and third-degree battery. Johnson was ordered to have no contact with the victim until the case is settled.