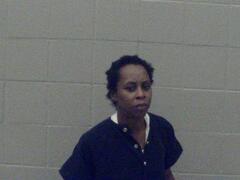 By Ray King
A $25,000 bond was set Friday for a Pine Bluff woman accused of setting a car on fire Thursday.
Jefferson County District Judge Kim Bridgforth set the bond after ruling prosecutors have probable cause to charge Tiffany Oglesby, 40, with arson and with second-degree battery because Oglesby spat in the face of a police officer.
Reading from an affidavit from Detective Corey Wilfong, Deputy Prosecutor Beth Carson said on Thursday, Officer Whitney Bradley was sent to a reported domestic disturbance on East 6th Avenue.
Carson said Oglesby was not questioned because of her erratic behavior and said Oglesby has multiple failures to appear in district court.
She was ordered to come back to court on Sept. 14.