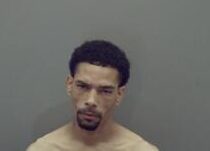 On Monday, a $25,000 bond was set for a Pine Bluff man who, on July 9, allegedly shot from inside a house located at 2500 S Elm Street.
Jefferson County District Judge Kim Bridgforth set the bond after ruling prosecutors have probable cause to charge Domonic Williams, 32, with two counts of aggravated assault and possession of a firearm by a certain person.
Reading from a probable cause affidavit from Detective Enrico Soto, Deputy Prosecutor Caleb Conrad said an officer was sent to the house located at 2500 S Elm Street where Williams, was apparently inside the residence shooting a handgun multiple times.
Soto took a recorded statement from the victim Latoya Williams, and Conrad told the court what the victim said,
The victim stated that the altercation started because the suspect was on narcotics. According to Latoya Williams, she and her daughter attempted to take the firearm from Domonic. As a result, they received lacerations on their hands.
Conrad added that the suspect was not interviewed due to his extreme agitation. Domonic Williams is a felon previously charged with fraudulent insurance acts. He was ordered to have no contact with the victims and set to come back to court August 17. Williams said he would hire his own attorney.