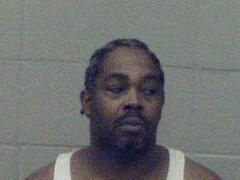 By Ray King
A Pine Bluff man previously convicted of drug-related offenses was arrested Thursday after he threw a bag containing suspected drugs out of his vehicle while fleeing from a drug task force investigator.
When he was questioned after being taken into custody, Christopher Jackson, 43, admitted to throwing the drugs out of his vehicle and also admitted that he was selling methamphetamine to support his family.
During a court hearing, Deputy Prosecutor Beth Carson said Task Force Investigator Dennis Kendall was on South Main at about 4 p.m. when he saw a truck driven by Jackson, who he knew had a suspended driver's license.
During the chase, investigators reported seeing Jackson throw something out of his vehicle at 37th and Hickory and a search of that area resulted in the location of a plastic baggie with multiple baggies of a crystal-like substance that field tested positive e for methamphetamine and weighed 28 grans and a green leafy substance that field tested positive for marijuana and weighed 28 grams. Jackson said the marijuana was for personal use.
Because of the prior convictions, Jefferson County District Judge Kim Bridgforth set a $25,000 bond for Jackson after ruling prosecutors have probable cause to charge him with fleeing and two counts of possession of a controlled substance with the purpose to deliver.