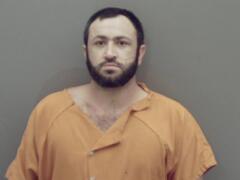 By Ray King
A Humphrey man identified as a suspect in the theft of a catalytic converter from a parked vehicle in White Hall on Aug. 5 will have to post a $25,000 bond to be released from the Adult Detention Center after a court hearing Thursday.
Pine Bluff District Judge John Kearney set the bond after ruling prosecutors have probable cause to charge Justin Atkins, 33, with theft of property and criminal mischief.
Reading from a probable cause affidavit from White Hall Police Investigator Clayton Cantrell, Deputy Prosecutor Caleb Conrad said a White Hall officer was sent to the Holiday Inn Express where the victim reported that the catalytic converter on his 2013 truck had been stolen and gas had been siphoned out of it.
Conrad said Atkins was identified from surveillance video from the business which also showed him leaving the scene in a Chevrolet Trailblazer. A check of the license plate number returned to a Humphrey man who told police Atkins used to work for him and had stolen a license plate off the man's vehicle.
Atkins turned himself into White Hall Police Tuesday and was interviewed by Cantrell.
Conrad said Atkins has five failure to appear warrants and pending charges in three counties. Atkins said he would hire his own attorney.