By Ray King
A $2,500 bond was set Monday for a Pine Bluff woman accused of stabbing her boyfriend during an altercation Friday.
Jefferson County District Judge Kim Bridgforth set the bond after ruling prosecutors have probable cause to charge Nicole Black, 38, with second-degree domestic battery.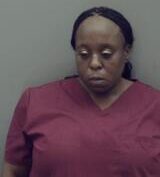 Reading from a probable cause affidavit from Detective Michael Merritt, Deputy Prosecutor Jay Gerard said police were sent to an apartment at 2901 S. Fir Street where the victim said he and Black had gotten into an altercation Thursday after she sat his things outside.
He said Black had stabbed him in the head and then left but officers were able to locate her and she was taken to the Detective Office where she was questioned by Merritt.
Gerard said the victim was taken to the hospital where he received six staples to the head.
Black was ordered to have no contact with the victim and told to come back to court on June 11.