22-year-old Tony Massie of Star City was arrested Tuesday following a high speed chase that began in Pine Bluff before ending in Star City after Massie crashed the Honda Accord he was driving.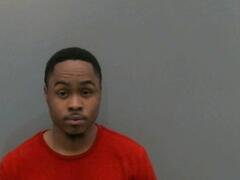 The chase began when Pine Bluff Lieutenant Jason Howard attempted to stop Massie at Martha Mitchell and Convention Center Drive. Jefferson County K9 Sergeant Courtney Kelley attempted to assist with the stop when Massie fled.
The chase moved to Hutchinson road before turning south to Dollarway Road. Once on Dollarway Road Massie sped up to approximately 60 MPH before turning on Linden Street and heading towards East 25th Street. Massie then made his way to Olive Street traveling at a high rate of speed through residential areas.
From Olive Street Massie turned on West 26th Street before turning onto Ole Main Street, traveling back to Olive Street. He then continued south on Olive and into Highway 63 South at approximately 70 MPH.
From there Massie turned onto Highway 54 and traveled to Griffin Springs Road until he reached Alexander Road at speeds up to 60 MPH. Massie then threw a black handgun out of the driver side window near Alexander Road and the Jefferson/Lincoln County Line Road.
He then traveled on County Line Road until he reached Highway 425 South where he traveled south towards Star City.
The Lincoln County Sheriff's Office, Star City Police, Arkansas Highway Police, and Arkansas Park Rangers then joined the pursuit. Massie made it to Star City before turning on Arkansas Street at a high rate of speed before he lost control of the vehicle and struck a curb. The car then came to a rest at the Star City Confederate Memorial after striking a brick wall.
Massie then jumped out of the car and began to flee on foot. After a brief chase Massie was apprehended by K-9 Sergeant Courtney Kelley and his K-9 partner Soder according to the report.
Following his apprehension Massie was booked into the W.C. "Dub" Brassell Detention Center on charges of Second Degree Battery, Fleeing, Speeding, Driving Left of Center, and Resisting Arrest.
Massie had not had his first probable cause hearing at the time this article was published.