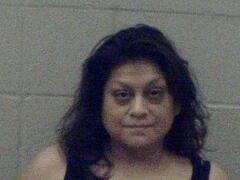 By Ray King
A $2,000 bond was set Thursday for a Pine Bluff woman accused of stabbing her boyfriend Tuesday night.
Pine Bluff District Judge John Kearney set the bond after ruling prosecutors have probable cause to charge Delia Avila, 43, with first-degree domestic battery.
Reading from a probable cause affidavit from Detective Corey Wilfong, Deputy Prosecutor Mircha King said police responded to a reported stabbing at the Classic Inn at 4325 Rhinehart Road at 11:36 p.m.
Wilfong reported that when police arrived, they found a male victim with blood on his hands and a towel covering a wound in the abdomen.
He said Avila had stabbed him because he refused to go back to the liquor store.
Avila was found in room 313 and a knife that was allegedly used in the incident was also located. Avila was not questioned that night because she was intoxicated.
She was ordered to have no contact with the victim until the case is settled and to come back to court Aug. 11.