2021 Golden Spikes Award Finalists Revealed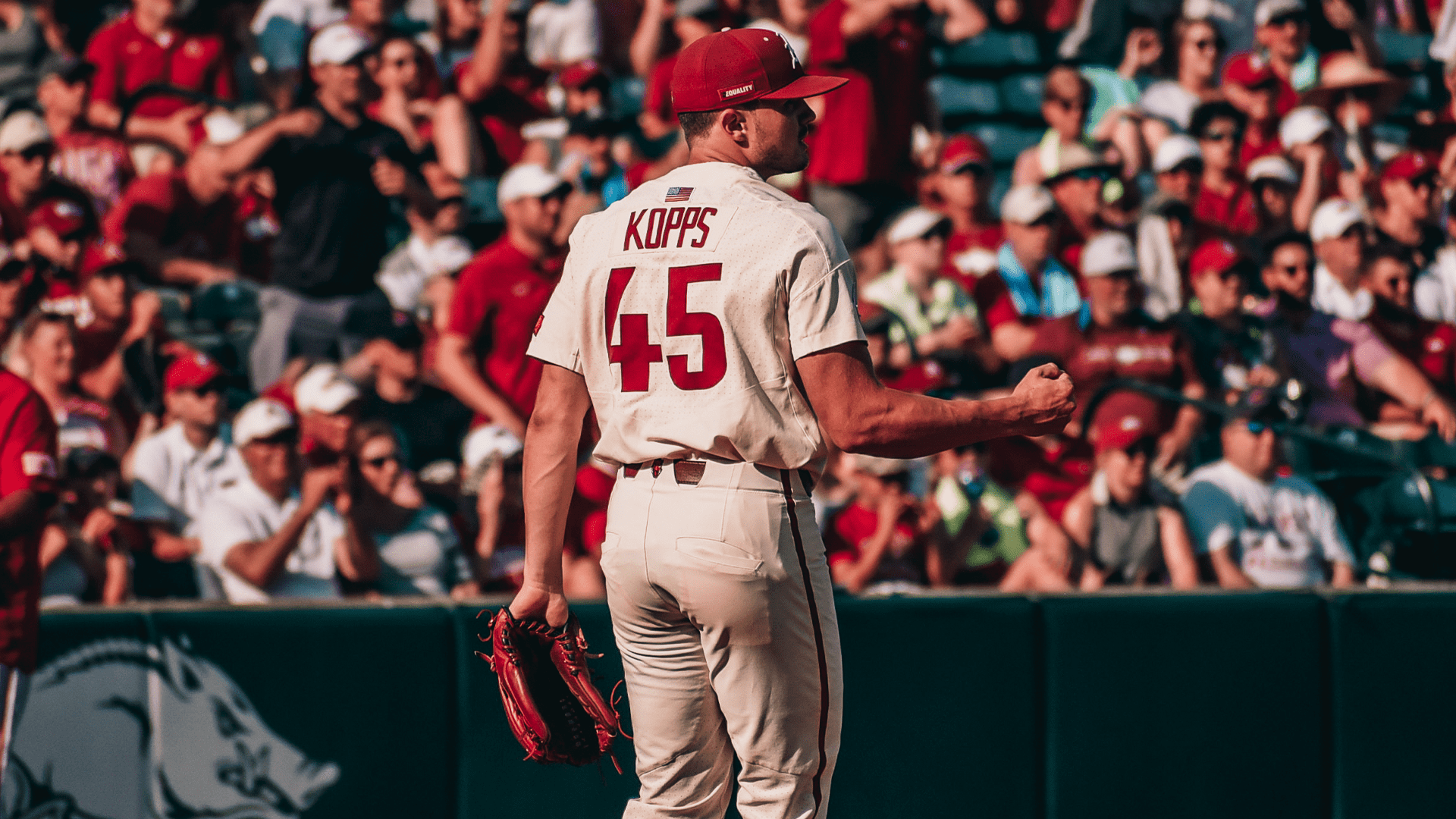 USA Baseball today announced the three finalists for 2021 Golden Spikes Award. Kevin Kopps (Arkansas), Jack Leiter (Vanderbilt), and Kumar Rocker (Vanderbilt) are the final three amateur baseball players in contention for the 43rd Golden Spikes Award.
2021 marks just the second year in the history of the Golden Spikes Award that not only do all of the finalists hail from the same conference, but also the second time that they have all played in the Southeastern Conference (SEC). All four finalists for the award in 2015 also suited up in the SEC (Andrew Benintendi, Arkansas; Alex Bregman, LSU; Carson Fulmer and Dansby Swanson, Vanderbilt).
Additionally, this is just the second time ever that all the finalists for the award have been pitchers. All three finalists for the 2011 prize also made their mark on the mound, including eventual-winner Trevor Bauer (UCLA), as well as Danny Hultzen (Virginia), and Taylor Jungmann (Texas).
"USA Baseball is thrilled to name Kevin Kopps, Jack Leiter, and Kumar Rocker the finalists for the 2021 Golden Spikes Award," said Paul Seiler, USA Baseball Executive Director and CEO. "These three athletes have not only put together incredible seasons for their respective schools on the field, but have also proven to be truly worthy honorees of this recognition off the field as well. We look forward to celebrating this well-deserved accolade with each of them and welcoming them into a tremendous fraternity of Golden Spikes Award winners.
Arkansas right-handed pitcher Kevin Kopps was named the 2021 SEC Pitcher of the Year after leading the nation with a stellar 0.75 ERA during the regular season. In 60.1 regular season innings of relief, Kopps collected a 10-0 record and 97 punchouts to go with his miniscule ERA, while opponents hit just .162 against him. A consensus All-America honoree, the righty also finished the 2021 campaign with Arkansas' single-season ERA record. Kopps is just the third Razorback to be named a Golden Spikes Award finalist and the first since Andrew Benintendi took home the award in 2015. Arkansas' Phil Stidham also earned finalist honors in 1991.
In his first full season of collegiate baseball, Jack Leiter put together a lights-out campaign for Vanderbilt in 2021. In 76.1 innings of work during the regular season, he recorded a 2.12 ERA and an 8-2 record, while walking just 34 batters. Leiter currently leads the SEC and the nation in strikeouts and tallied 127 of his current-171 in the regular season, including striking out 10 or more batters in seven of his 13 starts during the season. The right-hander tossed Vanderbilt's first regular-season, complete game no-hitter since 1971 in his SEC debut, collecting 16 punchouts in the win. He then followed that effort with two more starts in which he did not allow a hit to record 20.1 consecutive no-hit innings in his first three conference starts. Leiter was named SEC Newcomer of the Year in 2021 after his strong showing in conference play, earned All-SEC First Team honors, and also earned All-America honors this season after helping to lead Vanderbilt to the NCAA Division I College World Series.
Vanderbilt's Kumar Rocker earned First Team All-SEC and All-America honors for his dominant performance throughout the 2021 season. In 88.0 regular-season innings on the mound, Rocker tallied an 11-2 record and a 2.45 ERA, while walking just 27 batters and striking out 129. The Athens, Georgia, native won the first seven decisions of the season to set the tone for his 2021 campaign, and went on to once again help guide Vanderbilt to the program's second-consecutive College World Series appearance. The right-hander allowed just 22 extra-base hits during the 2021 regular season.
Leiter and Rocker are the seventh and eighth Commodores, respectively, to be named Golden Spikes Award finalists and the third Vanderbilt duo to earn the honor in the same year (Pedro Alvarez and David Price, 2007; Carson Fulmer and Dansby Swanson, 2015). 2021 also marks the second consecutive year in which Golden Spikes Award finalists were named that at least one Commodore was among the group, following JJ Bleday in 2019.
The 2021 winner will look to join a group of recent winners that include Adley Rutschman (2019), Andrew Vaughn (2018), Brendan McKay (2017), Kyle Lewis (2016), Benintendi (2015), A.J. Reed (2014), Kris Bryant (2013), Mike Zunino (2012), Trevor Bauer (2011), Bryce Harper (2010), Stephen Strasburg (2009), Buster Posey (2008), and David Price (2007).
Historically, Golden Spikes Award winners have gone on to have tremendous success in the Major Leagues. Of the 42 previous winners, six have earned Rookie of the Year honors, including Lewis in 2020. Additionally, three have won the Cy Young award, three were named MVP, and 11 have won a World Series championship as a player or manager, combining for a total of 18 championships. Nineteen previous winners have also been named to at least one All-Star Game roster as a player or manager, combining for 56 total selections.
A final ballot will be sent to the Golden Spikes Award voting body consisting of national baseball media, select professional baseball personnel, previous Golden Spikes Award winners, and select USA Baseball staff, totaling a group of 200 voters. From Thursday, June 24, through Friday, July 2, the voting body will cast their final vote for the Golden Spikes Award winner and fan voting will simultaneously be open on GoldenSpikesAward.com. Selections made by the voting body will carry a 95 percent weight of each athlete's total, while fan votes will account for the remaining five percent.
The presentation of the 43rd Golden Spikes Award will be announced at a later time.