Simmons Bank Deltaplex Radio and Chuck Barrett, the Voice of the Razorbacks, Honor SE Arkansas Finest Football and Cheer Young Men and Women
Wednesday evening at the Pine Bluff Country Club, 37 outstanding high school football players and 13 high school cheerleaders were honored during the first annual Simmons Bank/Deltaplex Radio Dream Team Banquet.
All-star student athletes from Dewitt, Dollarway, Drew Central, Dumas, England, Fordyce, Monticello, Rison, Star City, Stuttgart, Pine Bluff , Watson Chapel and White Hall were highlighted during the celebration.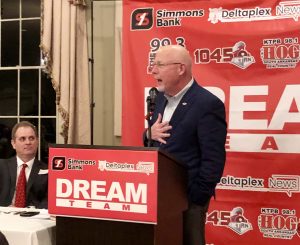 The Voice of the Razorbacks, Chuck Barrett was featured speaker and grabbed the attention of the room with an energetic and encouraging message for the students.  He spoke on how important it is to be an all- around team player and how teammates must support each other. Barrett used his experiences as a broadcaster to showcase how important is it to be a great teammate, not just in the locker room, but also in life.
Simmons Bank Regional President, Daniel Robinson spoke of the character traits that team sports instill and how those qualities are what many employers, including himself, look for.  Especially from the exceptional young men and women that were honored at the Simmons Bank Deltaplex Radio dream Team.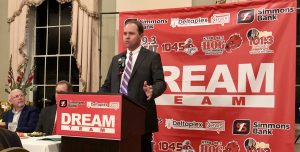 Players and cheerleaders were recognized individually while enjoying the evening with their families, teammates and coaches.  The evening was centered around accomplishments made on the football field, but it also shined a spotlight on how students excelled academically.
Many of the student's academic achievements have left them with multiple scholarship and university entry offers. Other students have already committed to universities such as the University of Arkansas, University of Arkansas at Pine Bluff, Henderson State University and the University of Arkansas at Monticello.
Malik Chavis, a senior for Rison High School, who has signed with the Razorback was awarded the 2018 Simmons Bank Deltaplex Radio Dream Team Defensive Player of the Year.
The junior quarterback from Dumas, Chis Harris who had eye popping statistics (3600 total yards and 40 TDs) won the Simmons Bank Deltaplex Radio 2018 Dream Team Offensive Player of the Year.
Rison Head Coach Clay Totty who guided the Wildcats to an undefeated regular season and state semi finals won the 2018 Simmons Bank Deltaplex Radio Coach of the Year honor.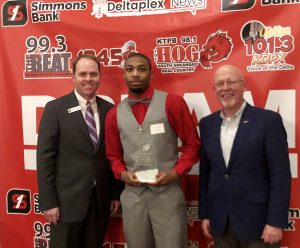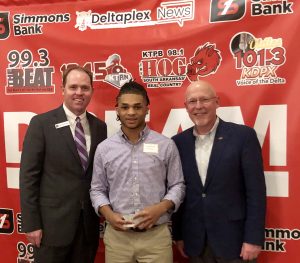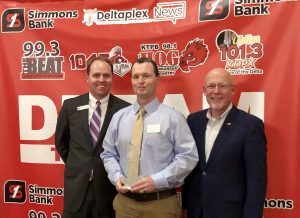 Dewitt
Seth Courtney     JR   QB/S    1200 yards passing, 9 TDs, 750 yards Rushing, 16 tackles, 1 Int, 3 TFL
Tiner Gunnell      SR   OLB/RB   100 tackles, 6 TFL, 200 yards Rushing
Kinsey Everett     Cheerleader
Dollarway
Kavareous Lowe   SR  669 Rushing yards, 6 TDs, 20 Receptions 1 TD, 36 tackles, 5 PBU,
Terrance Brown   JR  110 carries for 897 rush yards 9 TDs, 740 passing yards, 8 TDs, 50 tackles,  3  FL, 2 PBU, 2 fumble recoveries
Kayla Viera          Cheerleader
Drew Central
Travarus Shead   JR   WR/S  64 rush 416 yards 7 TDs, 21 receptions 565 yards 4 TDs, 32 tackles 4 TFL
Elijah Trantham  JR   MLB  107 tackles 10 TFL 1 sack
Karly Marlar       Cheerleader
Chris Harris   JR  QB  133-208  63.9% 1807 yards 19 TDs, 191 rush 1539 yards 21 TDs
Kaleb Small  SR   WR/DB/RB   85 Rush 637 yards 10 TDs, 44 receptions 625 yards 9 TDs, 662 return yards 44 tackles
Keondrice Walker   SR  LB  97 tackles  11 TFL  2 sacks
Dkebrien Hutson  SR  DL  54 tackles  20 TFL 5 sacks, 1 PBU, 2 Fumble recovery, 1 blocked kick 1 reception 20 yards
Kaitlyn Cantrell    Cheerleader
England
Tyler Woods  SR   WR  48 receptions 680 yards 8 TDs
Justus Fileteo  SR   LB  80 tackles 14 TFL 1 Int
Emily Massey     Cheerleader
Fordyce
DeArius Sledge   JR  10 rushes, 135 yards 1 TD, 29 receptions 445 yards 8 TDs
Jarod Allen   SR  75 tackles, 6 TFL
Montiecello
Gabe Martens    Senior  WR   47 receptions for 560 yards
Anna Boren     Cheerleader
Pine Bluff
Bekarrion Black    SR  WR/CB/KR  49 Receptions, 9 TDs, 11 tackles, 6 PBU, 288 return yards
Jamaal Foote     SR  OT/DE    26 tackles, 1 sack, 3.5 TFL
Colby Davis   SR  LB  89 tackles, 2 sacks, 12 TFL
Dazu Thomas   SR  LB   71 tackles, 3.5 sacks, 6.5 TFL
Makayah Goodlow    Cheerleader
Rison
RoShawn Martin  SR  Safety/Slot Receiver  66 Tackles 9 TFL 2 forced Fum 3 Fum Recovery, 3 INT, 4 PBU3 blocked punts, 40 rush 448 yards 7 TDs, 7 Receptions 223 yards 4 Tds
DJ Watson  SR  DT/OG  49 yackles 7 TFL, 1 sack, 2 Fum recovery, 11 knockdown blocks
Malik Charis   SR   RB/CB  42 tackles 1 TFL,5 PBU, 104 rush 979 yards 12 TDs, 4 receptions 41 yards 2 TDs
Landric Lea  SR   LB  105 tackles 7 TFL, 3 sacks, 3 forced fumbles 2 recoveries ,1 blocked punt
Faith Sipes    Cheerleader
Sheridan
Montana Korte  Sr  RB  70 rush 289 yards 6 TDs,
Noah Pruitt  SR   OL  Led team in pancake/knockdown blocks and graded out highest on team
Laura Workman    Cheerleader
Star City
Kevin Burris      SR   FB/LB   109 tackles, 1002 Rushing yards
Adam Fonville  JR    RB/CB   780 yards rushing, 71 tackles
Sydney Palazzi    Cheerleader
Stuttgart
David Walker    SR      14 Rushing TDs, 3TD receptions, 82 tackles, 2 Int
Arion White       SR     81 tackles, 4 sacks, 2 forced fumbles,
Tylon Berry         SR    673 yards receiving, 7 TDs, 4 Int, 4Pass break ups
Jon Hoskyn          SR   8 receptions 113 yards, 2 TDs, 51 tackles, 5 sacks
Molly Bohanon    Cheerleader
Watson Chapel
Malik Neal     SR   DE/OT  92 tackles 4sacks 15 TFL 2 Fum recovery 5 pass deflections, led team pancake and knockdown blocks
Kevin Compton   JR   FS/WR  10 Interceptions 34 tackles 22 receptions 347 yards 7 TDs
Nekiya Williams    Cheerleader
White Hall
Baylor Owen    SR   WR     29 receptions 608 yards 8 TDs, 9 tackles 1 INT, 1 PBU
Koby Drake   SR  WR/LB    28 receptions 438 yards 6 TDs, 2-2 passing 2 TDs, 50 tackles, 10 TFL, 2 Int
CJ Collins    Sr  DB/WR/ K/P    24/27 PAT, 4/6 FGs, 7 receptions 74 yards 1 TD, 29 tackles, 2 TFL, 3 PBU
Kyle Lambert   Sr OL     85% Blocking Grade, 20 pancakes, 32 knockdowns
Madison Crow    Cheerleader