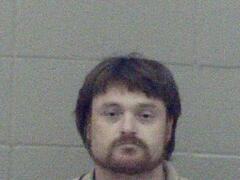 By Ray King
A Pine Bluff man currently out on bond on theft allegations was arrested Monday after he was found hiding in the woods near a business that had been entered.
Paul Lackey, 32, was taken into custody on two different incidents, the first in July and the second on Monday.
Reading from a probable cause affidavit from Detective Sgt. Michael Roberts, Deputy Prosecutor Mircha King said on July 5, police were sent to R.W. Baugh Construction where the owner said he found a cut in the fence, and a security video showed a white male taking wire made out of copper.
A second affidavit from Roberts said on Monday at 13:53 a.m., police received a call from J.D. Smith Wrecking Company where the owner reported receiving an alert on his security camera.
When Lackey was interviewed, he reportedly admitted going to the property without permission in both instances and taking copper wire.
King said Lackey was arrested on July 21 on a separate incident and formal charges in that incident have not been filed yet.
Because of that, Pine Bluff District Judge John Kearney set two separate $20,000 cash-only bonds for Lackey after ruling prosecutors have probable cause to charge him with two counts of breaking or entering, theft of property, and criminal mischief. He was told to come back to court Sept. 19.