By Ray King
A $20,000 bond was set Monday for a Pine Bluff man accused of threatening a former employer Friday night.
Jefferson County District Judge Kim Bridgforth set the bond after ruling -prosecutors have probable cause to charge Travon Howell-Clark, 21, with terroristic threatening.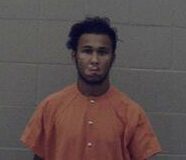 Reading from a probable cause affidavit from De4tective Corey Wilfong, Deputy Prosecutor Beth Carson said at 11:30 p.m., police were sent to Taco Bell on Camden Road in response to a reported armed disturbance. The victim said she had terminated Howell-Clark two days earlier and he had come into the business with a firearm.
Howell-Clark said he had thrown the gun in the yard at his brother's house and police recovered the gun, a B-B gun that resembled a pistol.
He was ordered to have no contact with the victim until the case is settled and said he would hire his own attorney.