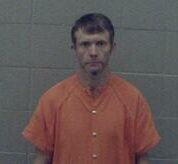 By Ray King
A reported disturbance on Rhinehart Road on July 16 resulted in the arrest of a Pine Bluff man accused of hitting another man with a piece of wood and causing injuries.
Richard Ramsey, 42, was taken into custody Thursday after he was allegedly involved in another disturbance at a house on Ryburn Road.
During a court hearing Friday, Deputy Prosecutor Beth Carson said when police arrived at the disturbance on Rhinehart Road they found a male with bandages and blood-soaked gauze.
Carson said the victim is 69 years old.
Detective Corey Wilfong reported that police were able to make contact with Ramsey on Thursday at the disturbance on Ryburn Road. He said he considered the male victim from Rhinehart Road as his father and said the man arrived at his home on July 14. He said the victim got out of his truck and tried to attack him and he punched the victim once in the face.
Pine Bluff District Judge John Kearney set a $20,000 bond for Ramsey after ruling prosecutors have probable cause to charge him with second-degree domestic battery., He was ordered to have no contact with the victim until the case is settled.