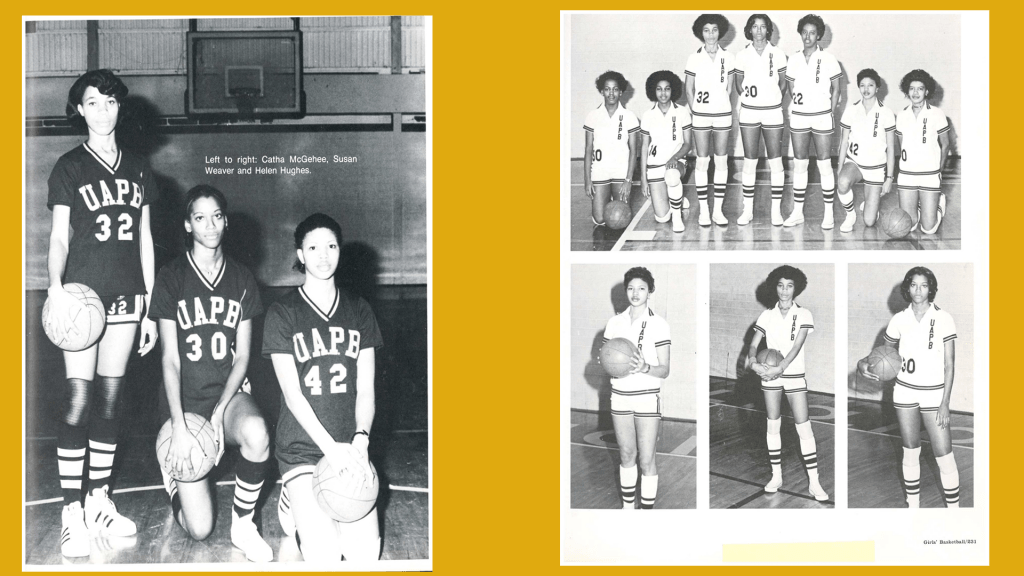 By Carl Whimper
Three years after restarting the women's basketball program at the University of Arkansas at Pine Bluff in the mid-1970s, former coach Alma Murphy's ball clubs sent shockwaves throughout Arkansas and across the nation.
When Murphy agreed with the UAPB athletic administration to restart the program that ended in 1947, she volunteered her services while teaching full-time in the health, physical education and recreation department.
The women's basketball team, known then as the Golden Lionettes and changed to Lady Lions years later, played an abbreviated 12-game schedule with a group of 12 walk-on players during the 1975-1976 school year, starting in mid-November and ending in mid-February.
"We started from scratch with those 12 walk-on young ladies," Murphy said during a recent interview.  "They were the foundation and we started building from that point."
But things began to turn for the women's program the following season after Murphy signed three talented Arkansas high school players in the spring of 1976 and added a walk-on player to the mix.  The trio of scholarship players included 5-foot-7 shooting guard Helen Hughes of Stuttgart, 5-foot-5 point guard Brenda Gulley of Tillar, and 5-foot-9 forward Catha McGehee of Reed.  Susan Weaver, a 5-foot-10 walk-on forward of Wheatley, rounded out the freshman class.
Hughes led the squad in scoring by averaging 21.3 points per game in 1976-1977.  Weaver followed with a 15.1 scoring clip and McGehee averaged 13.3 points per outing.  Hughes was the lone UAPB player named to the first-team All-Arkansas Women's Intercollegiate Sports Association (AWISA) in her freshman year.
Perhaps the biggest highlight of the 1976-1977 season was the Lionettes' 80-point margin win over Philander Smith College in a 124-44 rout which remains a school record today.
"They were the core to our championship run," Murphy recalled.  "I did not know about Susan until she was already enrolled on campus.  I knew the former women's basketball coach at Arkansas State University in Beebe who tried to recruit her there."
"I remember the coach called me one day shortly after school had started and told me that I needed to find Susan (Weaver) at UAPB because she's a talented player from Wheatley," Murphy continued.  "Anyway, it took me a few days to find Susan and I am so glad that she joined the team."
The foursome that started as freshmen, along with 5-foot-6 junior guard Margie Williams and several key reserves, helped the Lionettes capture the AWISA championship during the 1977-1978 season while finishing with a 24-2 overall won-loss record and a 16-2 league won-loss mark.
The 24-2 record still stands as the best in school history for women's basketball.  The squad consisted of six freshmen, six sophomores, one junior and a senior.  The other team members were Lisa Hurt, Carolyn Rodgers, Lois Atcher, Sandra Strong, Janice Roberts, Barbara Smith, Annette Gaines, Dell Mitchell and Eileen Williams.
Murphy, who was still coaching as a volunteer throughout the Lionettes' championship year, was an unanimously selection as AWISA's Coach of the Year in 1977-1978.
The Lionettes, who were also members of the now defunct National Black Association of Black Sports (NBAB), were ranked as the nation's top independent Black college women's basketball team at the conclusion of the 1977-1978 season.  Hughes, McGehee, Gulley and Weaver, who are members of the UAPB/AM&N Sports Hall of Fame, were named to the NBABS All-American team as sophomores.
During the Lionettes' championship run, Weaver led the team in scoring and rebounding.  She averaged 15.4 points per game and 14.3 rebounds each outing.  McGehee followed with a 14-point scoring reading while hauling in 13 rebounds per game.  While averaging a team-high six assists per game, Hughes scored at a 13-point clip each contest.
Two seasons later (1977-1978), the Lionettes reached the finals of the AWISA title game and suffered a heart-breaking 74-68 loss to Arkansas Tech University.
To honor the Lionettes' championship team, members of the squad will be recognized during halftime of Saturday's basketball women's and men's basketball games against Southern University at H.O. Clemmons Arena, with the doubleheader starting at 5 p.m., with Murphy serving as honorary coach.