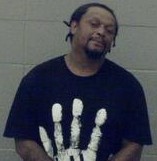 By Ray King
A $15,000 cash only bond was set Monday for a Pine Bluff man currently on parole who allegedly hit and choked his girlfriend, then led police on a high speed chase before he was taken into custody.
Jefferson County District Judge Kim Bridgforth set the bond after ruling prosecutors have probable cause to charge Shaun Lancaster, 43, with aggravated assault on a family or household member and felony fleeing.
Reading from an affidavit by Detective Jason Boykin, Deput Prosecutor Brittany Akel said at 3:26 a.m. Saturday, police responded to a reported domestic incident on South Chestnut St.
Akel said when police asked Lancaster to step out of the car, he put it in reverse and they attempted to taze him but that was unsuccessful and the car hit a police vehicle before fleeing at a high rate of speed. Officers lost sight of the car during the chase but were able to find it on Blake Street and take Lancaster into custody.
He has prior convictions for aggravated robbery, second-degree battery and theft of property.
Lancaster was ordered to have no contact with the victim and told to come back to court Oct. 19.