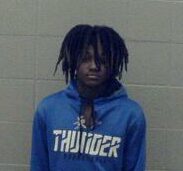 By Ray King
A $150,000 bond was set Friday for a Pine Bluff man accused of shooting another man Nov. 25.
Pine Bluff District Judge John Kearney set the bond after ruling prosecutors have probable cause to charge Kedrick Love, 18, with first-degree battery and three counts of terroristic act.
Reading from a probable cause affidavit from Sheriff's Investigator Terry Wingard, Deputy Prosecutor Jill Reed said at about 5:10 p.m., deputies responded to Handy Mart on U.S. 79 in response to a reported shooting.
Reed said there were two juveniles in the victim's car when the shooting occurred and the car was hit three different times.
The victim was transported to UAMS for treatment and according to the affidavit, had 16 gunshot wounds to the leg and left arm. His condition is currently unknown.
Love was ordered to have no contact with the victim or the juveniles and said he would hire his own attorney.