By Ray King
A reported robbery at the Shell Gas Station across from the Pines Mall Monday resulted in the arrest of a suspect.
Lavoisier Butler, 37, was taken into custody after police responding to the store received information that the suspect had ran toward the Mall where they found Butler.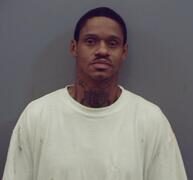 During a court hearing Tuesday, Deputy Prosecutor Caleb Conrad said Butler had $634 in cash and a .22 caliber handgun in his possession at the time he was arrested. The store clerk also identified Butler as the person who robbed him.
Detective Keith Banks reported that he attempted to question Butler but was unsuccessful when Butler said he did not understand his rights.
Conrad said Butler has pending charges in Lincoln County for fleeing and being a felon in possession of a firearm and prior felony convictions out of state.
Because of that, Jefferson County District Judge Kim Bridgforth set a $150,000 cash-only bond after ruling prosecutors have probable cause to charge him with aggravated robbery, theft of property, and being a felon in possession of a firearm.