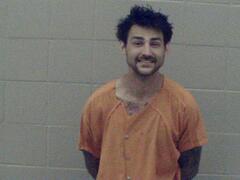 By Ray King
A $15,000 bond was set Monday for a Pine Bluff man accused of breaking into the storage lot of a wrecker company and attempting to drive off in a vehicle.
Jefferson County District Judge Kim Bridgforth set the bond after ruling prosecutors have probable cause to charge Isaac Ruiz, 37, with breaking or entering.
Reading from a probable cause affidavit from Detective Chris Wieland, Deputy Prosecutor MIrcha King said on May 10, police were sent to 4205 W. Barraque St., Foster Towing, in response to a report that a man covered with tattoos was attempting to steal a vehicle.
King said Ruiz was not interviewed at that time because he was under the influence of a narcotic.
King said Ruiz was identified after police put his picture on social media.
In addition to the current allegation, Ruiz will be held without bond because he failed to appear for a hearing in 2021 on a pending felony charge.
He was ordered to come back to court June 9.