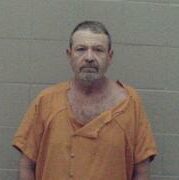 By Ray King
A $15,000 bond was set Monday for a Jefferson County man accused of threatening his estranged wife.
Jefferson County District Judge Kim Bridgforth set the bond after ruling prosecutors have probable cause to charge John Ratcliff, 44, with first-degree terroristic threatening.
Reading from a probable cause affidavit from White Hall Police Investigator Clayton Cantrell, Deputy Prosecutor Beth Carson said White Hall Officer Charles Treadway was sent to the police department on Feb. 23 where Paula Ratcliff said her estranged husband had called and threatened her. She said she had filed for divorce in July 2021, but the divorce was not final.
Carson then told the court what the victim reported.
Cantrell reported that an initial attempt to locate Ratcliff was unsuccessful but a BOLO (be on the lookout) was issued and Ratcliff turned himself in. He was not interviewed because he was reportedly intoxicated.
Ratcliff said he would hire his own attorney and was told to come back to court on March 21.