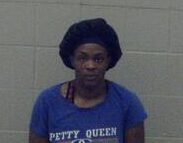 By Ray King
A $10,000 bond was set Friday for a Pine Bluff woman accused of pointing a gun at a man Wednesday.
Jefferson County District Judge Kim Bridgforth set the bond after ruling prosecutors have probable cause to charge Sharnetta Young, 35, with terroristic threatening.
During the court hearing, Deputy Prosecutor Joe West said at about 8 p.m., police were sent to a house on West 30th Avenue in response to a reported armed disturbance.
Young was ordered to have no contact with the victim and said she would represent herself in court.