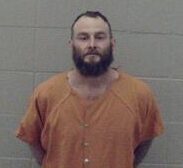 A $10,000 bond was set Wednesday for a Pine Bluff man who allegedly fired shots into a roadway after an argument with a neighbor Monday.
Jefferson County District Judge Kim Bridgforth set the bond after ruling prosecutors have probable cause to charge Robert Phillips, 37, with aggravated assault and with being a felon in possession of a firearm.
Reading from a probable cause affidavit from sheriff's Investigator Charles White, Prosecuting Attorney Kyle Hunter said deputies were sent to Jericho Road Monday at about 5 p.m. in response to a reported armed disturbance.
On arrival, deputies spoke to a female who reported seeing Phillips and three young white males shooting a .22-caliber rifle at a target. Hunter said the female is a neighbor of Phillips.
Investigator White reported that when he arrived, he saw three spots in the road that appeared to be where bullets struck. When Phillips and others were questioned, they said they were shooting at a target in a safe manner when the neighbor yelled at them and they walked to the road where a confrontation occurred.
Phillips said he carried a gun because the neighbor had aggressive dogs and admitted firing shots into the road. He also admitted to being a convicted felon and knew he was not supposed to have a gun.
Hunter said Phillips has been convicted of more than one but less than four prior felonies. Phillips was ordered to have no contact with the neighbor until the case is settled.